Welcome to 3rd Global Dermatology Course in Stockholm, Sweden and Addis Ababa, Ethiopia
Global Dermatology course is specially organized for residents and specialists in Dermatology who wants to expand their knowledge in tropical and neglected skin diseases that are endemic and common in developing and tropical countries.
We will also cover traveller's diseases and skin manifestations in colored skin.
The course is divided in two parts; the first one will be held in Stockholm (6th and 7th October) with two-day lectures with an extensive content covering the most important tropical diseases. The second part is optional and restrict to a reduced number of participants. It will be held in Addis Ababa (10th to 14th October) at the ALERT hospital. The participant will have the opportunity to deepen in to the field and will attend the dermatology clinic, which includes patient demonstration, ward visits, and lectures. More information about the travel and accommodation will be provided soon.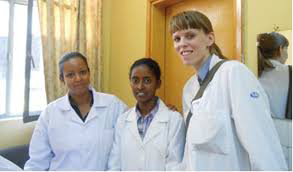 On behalf of the course administration
Maria Bradley, Anders Grängsjö and Iara Drakensjö (iara.drakensjo@ki.se)
Karolinska University Hospital, Stockholm
General Information
Course Dates and Venues
6-7 October 2016: Karolinska University Hospital, Stockholm, Sweden
10-14 October 2016: Alert Hospital, Addis Ababa, Ethiopia
Course Language
English
Course Level
Basic to intermediate
More Course Information
http://beta.lipus.se/course/detail/9998/
For registration
6-7 October, Stockholm; https://www.nordicdermatology.com/courses/201600074
10-14 October, Addis Ababa; https://www.nordicdermatology.com/courses/201600076